This was perhaps one of the most delicious coffee's I've ever had, and I immediately began contemplating how I could recreate it at home.
Believe it or not, this task turned out to be pretty simple, and I ended up with a jar of macadamia nut goodness that can be added to any coffee to create the most amazing macadamia nut latte. Seriously, this stuff is like liquid gold. It's so good! I highly recommend making a jar to keep in the fridge, but it also makes a great gift!
Note*** this is a very easy recipe, but the syrup does need to sit for a few hours, so make sure to make the base ahead of time.
Macadamia Nut Latte Ingredients:
¼ cup dry roasted unsalted macadamia nuts
1/3 cup of water
2/3 cup of sugar
2 shots of espresso (or any coffee that you prefer)
Milk to taste
Start by making the macadamia nut syrup (i.e. liquid gold).
In a small saucepan, mix together 1/3 cup of water and 2/3 cup of sugar over low heat just until sugar is dissolved. This should just take a couple of minutes. You're just making a basic simple syrup. Once the sugar has dissolved, turn off the heat and start on the macadamia nuts.
You're starting with dry roasted macadamia nuts, but we're going to toast them again to add even more flavor and draw out the oil so that they infuse the simple syrup.
In a dry pan, toast the macadamia nuts over low to medium heat until they become more golden brown and very fragrant. Make sure that you continue to stir them or shake them in the pan so they don't burn. This will take about 3-5 minutes.
Once the macadamia nuts are thoroughly toasted, add them to the simple syrup and leave them to steep for 2-3 hours.
Once the macadamia nuts have been sitting in the simple syrup for at least two hours, pour the entire mixture (macadamia nuts and all) into a blender (I use my nutribullet) and blend until very smooth.
Once the mixture is blended until smooth, pour it through a fine mesh strainer just to get any little lumps out pieces of nuts out.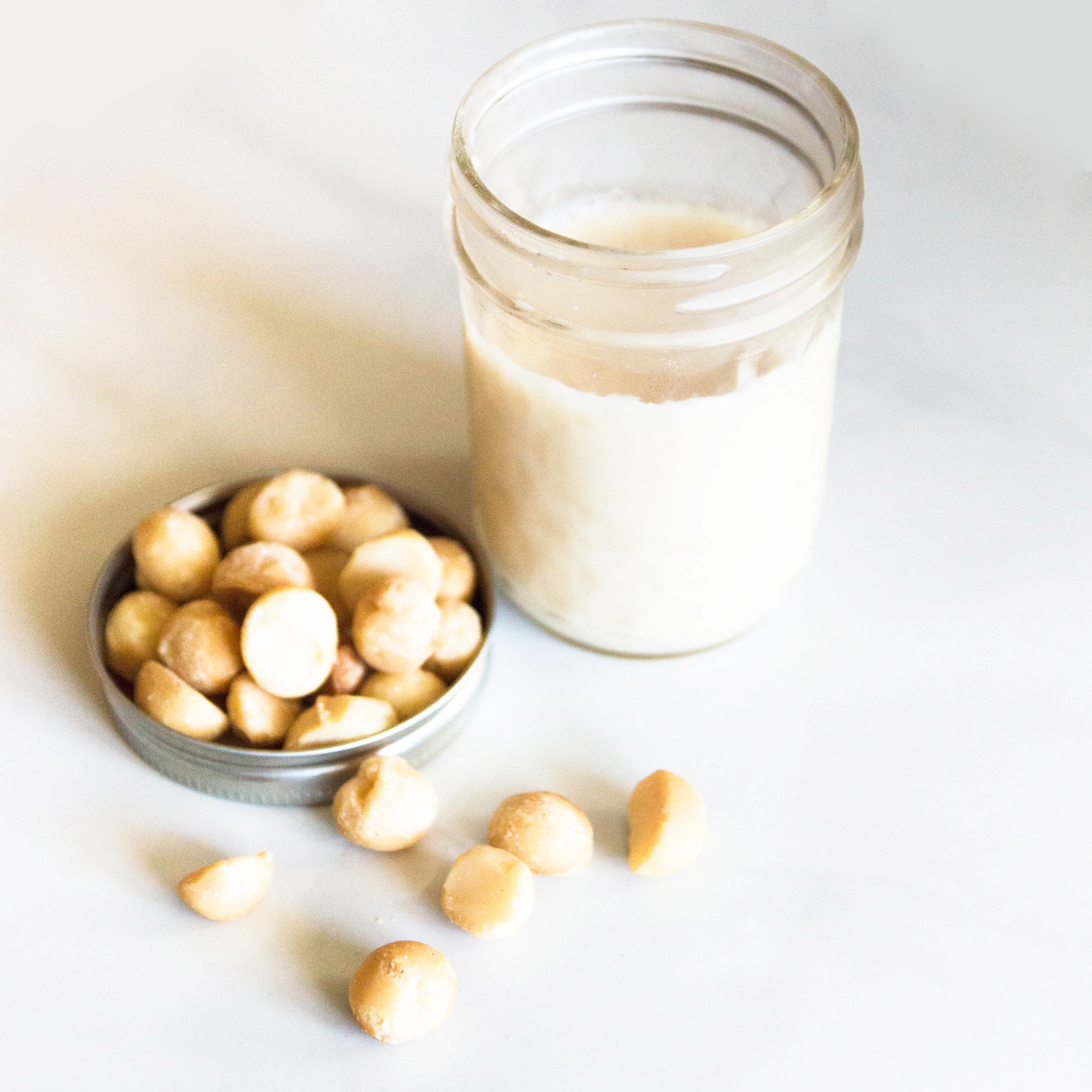 From there, you can store the macadamia nut syrup in an airtight jar in the fridge. It will last for a few weeks.
To make the macadamia nut latte, add one tsp of the macadamia nut syrup to your favorite coffee (I use espresso) and top with milk. For the iced macadamia nut latte pictured, I filled a glass with ice, mixed the macadamia nut syrup into the hot coffee, then poured the coffee over the ice. Finally, I topped it with enough milk to fill the glass.